Its been on for over a hundred and it still retains its position as the number one canine celebrating the body. Yeah! Cruft is back with its annual kennel show, and it's another season for the best of the canine breed to come forth in all their glory. Since its inception in the early 1890s, the Kennel Club has sustained it as the largest dog show, with over 20,000 dogs registered for the event annually. This year, we aren't expecting any less, but a huge addition in the number of would-be cruft champions joining in.
Following the cancellation of the Crufts show in 2021, we've been on the lookout for a new season. Now that it has finally come, we're so enthusiastic about providing you with necessary info to get you started. In this article, you'll get to know the dates and places where the Crufts Dog show for 2022 will be held. Likewise, you'll get the full TV schedule as well as online streaming options. More importantly, you will get to know how to get your tickets to the event in very simple steps.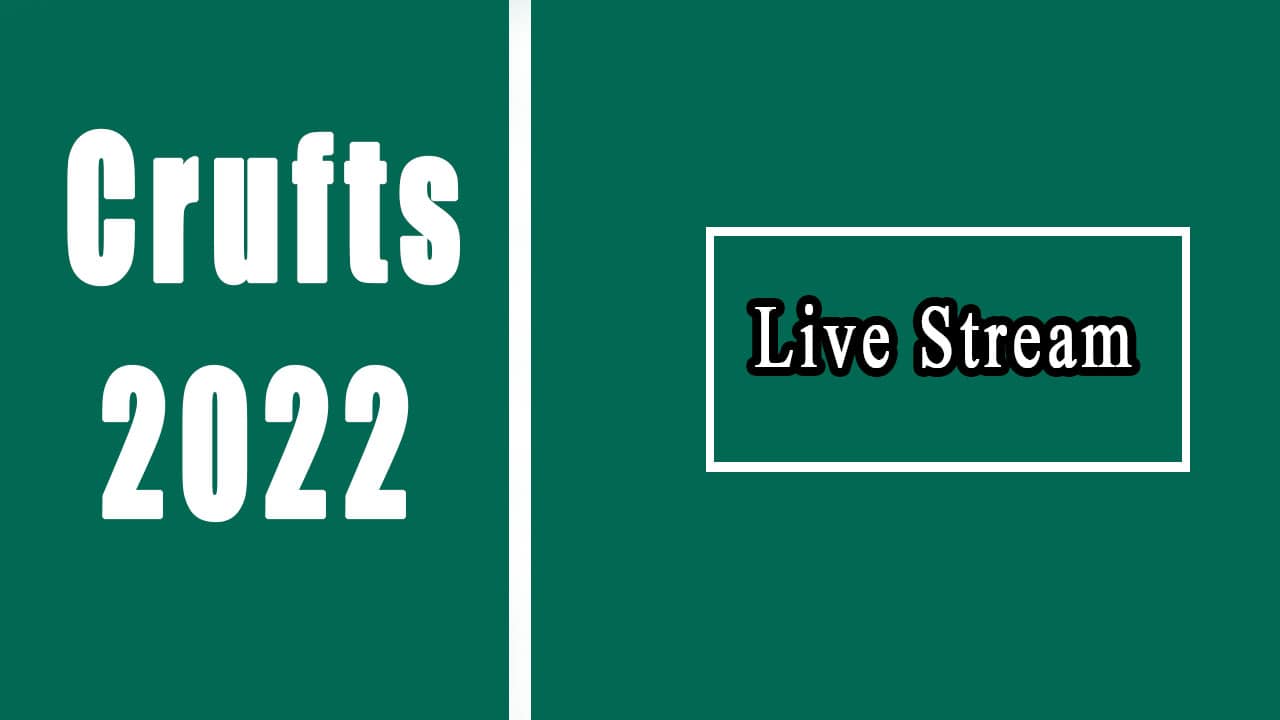 Crufts Dog Show 2022 Date & Locations
From Thursday, 10 March 2022, the Crufts Dog show will begin at the New Exhibition Centre, Birmingham. The show will run through the weekend and finally come to an end on Sunday, 13 March, 2022, when we will finally meet the champion of the season. The dog show is finally coming in after the long-time qualification period since January, 2021.
Crufts Dog Show 2022 TV Schedule
If you'd like to stay away from the audience arena and enjoy the show with no distraction, then you need the TV schedule. In accordance to past schedules for the popular dog shows, we will provide a listing of the events for 2022. To join others who will be watching from home on Channel 4, do pay attention to these details.
On Thursday, March 10, there will be three sessions for the Terrier and Hound Groups.
The first session will begin in the afternoon from 3pm – 4pm on Channel 4.
Then, there will be another session from 6.30pm – 8pm on More4.
Lastly, there will be an 8pm to 9pm session on Channel 4.
On the second day of the event, March 11, the day's activities for the Toy and Utility group goes as follows;
There will be a in the from 3pm – 4pm on Channel 4.
Following this, another session will be on from 6.30pm – 7.30 pm on More4.
Lastly, there will be an 7.30 pm to 9 pm session on Channel 4.
On Day 3 which is March 12, the Gundog group will be seen performing, with two sessions for the day and this includes;
A 4.30 pm to 6 pm session will be on for the evening.
Likewise, a subsequent session would hold with 7 pm to 9 pm.
Both activities will be televised for public viewing on Channel 4.
Finally, on Sunday, March 13, the show will be brought to a close, and we will be watching two sessions live on TV, after which the recorded videos can be accessed on virtual platforms.
A 4.30 pm to 6 pm session will be on for the evening.
Likewise, a subsequent session would hold with 7 pm to 9 pm.
How To Watch Crufts Dog Show Online on Social Media
If you prefer an easier access to the show through your mobile or without TV, this is for you. You can how learn how to watch the Crufts Dog Show 2022 online, on social media by joining the live stream on any of these platforms.
Facebook
The Facebook page for the Crufts Dog show is very accessible for you to watch the event with ease. The events will be on live stream and should be available to watch later.
Twitter
Follow the organization one @crufts on Twitter. That way, you can get notifications about the period of the event on some more vital information.
Youtube
Definitely! YouTube is your best best for this online live stream. Simply check out Cruft's channel on YouTube, subscribe and get notified for the show's show's live stream which will be on in March.
Crufts Dog Show Official Channel
The show's official channel is also a reliable platform to watch and enjoy the dog's performances. For better information, you can check the official website. https://www.crufts.org.uk/
Other Tv Stream
Other TV stream options that you can check in for the crufts dog show includes Apple TV, Amazon, or Compare TV.
DirecTV Stream
Likewise, you can check it out kn DirecTV stream.
DogShow TV
You can also watch any dog show live stream on this website.
How to get Crufts Dog Show 2022 Tickets?
You can check in at the official website https://www.crufts.org.uk/ to purchase your tickets. This is of utmost importance to avoid getting scammed, as there exist untrue platforms who are on the lookout for unsuspecting Crufts attendees to offer take services to. Therefore, tickets for the Crufts dog show are only available on the website and on Ticket Factory . Do take heed to this information.
About Crufts Dog Show 2022 Judges
In all, there will be over 30 Judges present for the 2022 Crufts Dog show. Following the show's rules, the judges will grade the each dog breed and decide which has performed in the best way according to standards.
FAQ about Crufts Dog Show 2022
What is Crufts Dog Show 2022?

Crufts Dog show 2022 is the 131st season of the annual dog championships organised and managed by the Kennel Club.
When Crufts Dog Show 2022 Start?
Cruft Dog show 2022 will begin on March 10, 2022 at NEC, Birmingham.
Is the Crufts dog show an international dog show?
Although the show originated from and is based in the UK, Crufts is an international event that accepts breeds that qualify to compete.
Final Words
We're set again to welcome thousands of the world's best dog breeds in the UK. Join in, with hundreds of other dog lovers to celebrate and the grace of these amazing creatures. Its going to be a fun fair and we can't wait! So, get on board now by visiting the show's website to get your tickets. And, come along with friends because the more the merrier! Do stay connected for more updates about Crufts 2022.